Long-Term Management Vision/Medium-Term Management Plan
The SAPPORO GROUP has formulated the "Sapporo Group Long-Term Management Vision 'SPEED150'" as the direction for progress towards the year 2026, the 150th anniversary of founding. We have also established a Medium-Term Management Plan that acts as a roadmap. The Group has re-recognized the source of growth as "Brand Assets" cultivated through more than 140 years as a business. With this, we will undertake management reforms and business growth with speed, while following these management philosophies and fundamental policies.
2026 Group Vision

The Sapporo Group will be a company with highly unique brands in the fields of
"Alcoholic Beverages," "Food," and "Soft Drinks" around the world.
Action Guidelines

1.

Make customers lifestyle around world more fulfill by creating new value through the pursuit of innovation and quality.

2.

Strive to provide products and services and to nurture brands that foster communication among customers.

3.

Practice efficient management in tandem with addressing changes in the environment.
Long-Term Vision Road Map

The Sapporo Group Long-Term Management Vision
The Sapporo Group Long-Term Management Vision "SPEED150"
We will nurture and strengthen the Group's brands along with the real estate business, positioning 'Alcoholic Beverages', 'Food' and 'Soft Drinks' as the Group's three core business fields.
Three Major Strategic Themes
1. Establish Robust Profitability in the Japanese Alcoholic Beverages and Soft Drinks Businesses
2. Accelerate Growth in the "Food" Field
3. Promote Global Business Expansion
Strengthening Corporate Communication
For the various corporate activities we pursue based on our Management Philosophy, we will work to enhance the Group's presence among our stakeholders by strengthening our ability to communicate information to them.
The First Medium-Term Management Plan (2017-2020)
Basic Policy
Strategies for Business Activities
Assess the competitive areas in each business and realize "sustainable growth" and "create results" to enhance cash generation.
・Continuous Growth in Existing Businesses
・Produce Results in the Investment Business
・Capture Growth Opportunities
Group Management
We will actively strengthen foundations for "strategic management resource shifts" and "innovation and promotion of business structures for segment management".
・Implementing group systems according to growth status and optimizing head office functions
・Reinforcing management foundation functions
-R&D

Enhancing resources (human resources, research and development funds) geared towards growth in the 'Food' category

-Personnel and human resources

Initiatives toward enhancing health and shifting human resources to growing business areas

-Finance

Reinforcing financial foundations with improved asset efficiency and monitoring
Operational Goals
Quantitative Targets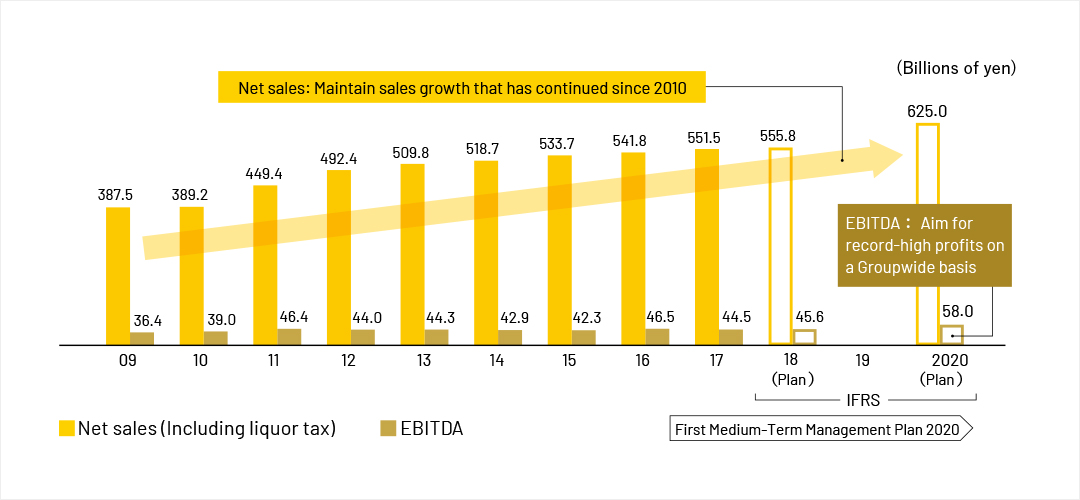 Financial Indicators
Financial indicators to be realized through the four years of 2017 to 2020
Cash flows from operating activities:
¥180.0

billion


Generate cash flows by achieving continuous growth in existing businesses and producing results
Cash flows from investing activities:
¥130.0

billion


Proactively allocate cash to the fields of "Alcoholic Beverage," "Food," and "Soft Drinks"
Interest-bearing liabilities
Target a debt-to-equity (D/E) ratio of around 1.0 times
Shareholder returns
Target a dividend payout ratio of 30%
The plans and targets stated in this document were prepared based on forecasts made by the Sapporo Group from information available at the time of publication and therefore involves potential risks and uncertainties.
Actual outcomes may differ materially from these plans and targets due to changes in various underlying factors.
Information on progress is published within settlement briefing documents.
IR Library