Dividend Information
Dividend Policy
Providing fair returns to our shareholders is a key management policy of the Sapporo Group. Our basic policy is to pay stable dividends to the extent permitted by our operating performance and financial condition.
As for the level of dividends going forward, the Company will take into account dividend payout ratio and DOE(*)while working to enhance its corporate value under the New Management Plan.
In the event that "profit attributable to owners of parent" fluctuates significantly due to temporary losses related to special factors or recording of profits, the dividend amount may be determined taking into account the impact of such fluctuations.
* DOE = Amount of dividends/Amount of capital (i.e., total equity attributable to owners of parent)
Fixed Date of Dividend Payout and Starting Date of Payout
| | Year-end Dividend |
| --- | --- |
| Date of record | December 31 |
| Payment date | The following business day of the Annual General Meeting of Shareholders |
In case the board of Directors meeting decides to pay out interim dividends, the company pays out in late August or early September each year to shareholders registered as of June 30.
Historical Data on Dividends per Share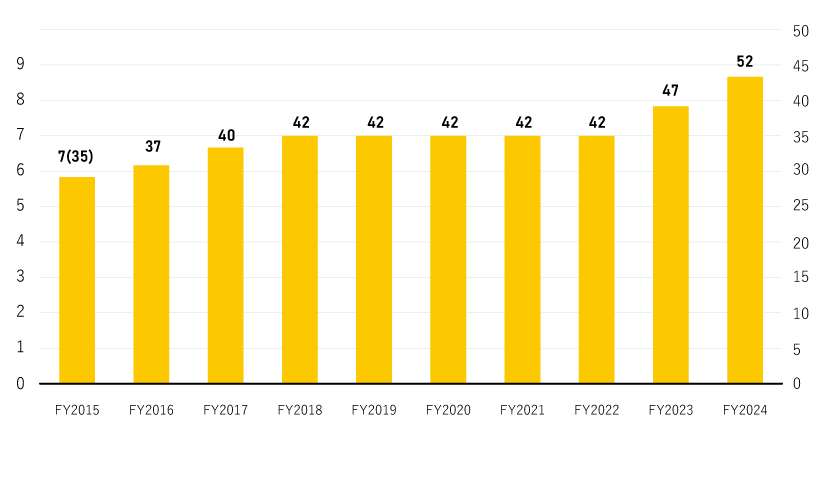 Dividend per share (yen)
Dividend per share after adjustment
(yen) (*)
FY2020
42
FY2019
42
FY2018
42
FY2017
40
FY2016
37
FY2015
7
35
FY2014
7
35
FY2013
7
35
FY2012
7
35
FY2011
7
35
* On July 1, 2016, the company carried out a share consolidation at a ratio of 1 share for 5 shares of the company's common stock. Accordingly, values for the dividend per share after adjustment in above table have been calculated on the assumption that the share consolidation took place at the beginning of the fiscal year 2009.