Breeding Raw Materials Adapted to Climate Change

Sapporo Holdings endorses the recommendations of the TCFD, which encourages companies to assess, manage, and disclose information on the risks and opportunities of climate change, and is actively promoting information disclosure.
Recognizing that addressing climate change is one of the most important issues to be addressed on a global scale, we are working to resolve issues from both mitigation and adaptation perspectives. We have identified risks and opportunities based on scenario analysis of multiple possible future business environments, and are reflecting the results in our strategies and initiatives.
Governance
Sapporo Group has established the Group Sustainability Committee, chaired by the President and Representative Director of Sapporo Holdings, as an advisory body to the Management Committee* to promote and oversee environmental conservation activities for the entire Group and to support the environmental management initiatives of each operating company.
It examines various issues based on the Group's environmental policy and global trends, and is working to reduce greenhouse gas emissions in the area of climate change, which is positioned as a particularly important issue.
In addition, each of our operating companies has an environmental conservation promotion system tailored to the characteristics of its business.

(note) Corporate governance and internal control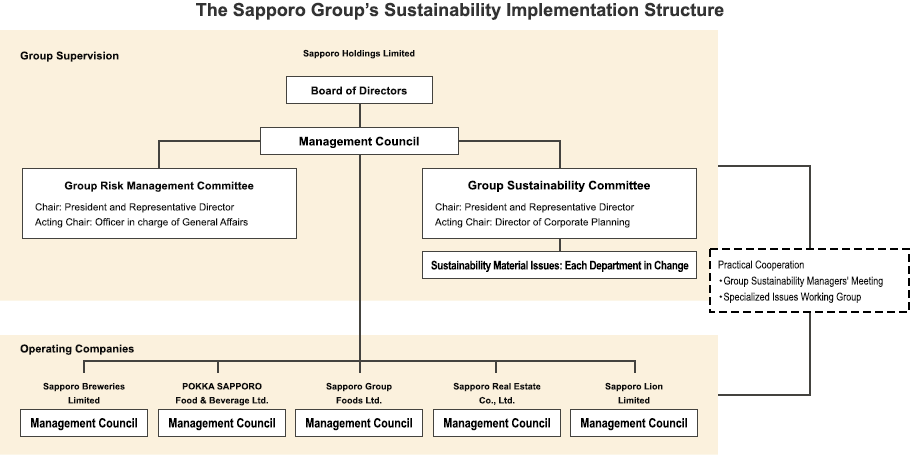 Strategy
Sapporo Group formulated the Sapporo Group Environmental Vision 2050 in 2019 with the aim of realizing a decarbonized society, and is working to prevent global warming by reforming its business structure with a decarbonization orientation, thoroughly implementing energy-saving measures, and utilizing renewable energy.
In this context, in our core beer business, we have been breeding our own barley and hops, the main raw materials, since our founding in 1876, and have adopted a unique raw material procurement system called "cooperative contract farming" since 2006. In the future, assuming the impact of each of the scenarios described below on the yield of raw materials, we will work to develop new varieties and ensure stable procurement in cooperation with universities, research institutions, and suppliers in Japan and overseas, based at the Sapporo Brewery Material Development Laboratory. We will also strengthen cooperation with suppliers to ensure stable procurement of corn and rice as secondary materials.
We will take on the challenge of resolving climate change issues from the perspectives of mitigation and adaptation* through our group-wide efforts to thoroughly decarbonize and our efforts to produce raw materials, which we have cultivated over 140 years in the beer business, aiming to become a resilient corporate entity and contribute to the building of a sustainable society.
* Mitigation: Curbing the emission of greenhouse gases
Adaptation: Adjusting the nature and human society to cope with the effects of global warming (from Ministry of the Environment data)

Scenario Analysis
A scenario analysis was conducted for the procurement area of agricultural products used as raw materials for beer, which is expected to be affected by climate change in the core beer business. Based on scenario analysis data from the Food and Agriculture Organization of the United Nations (FAO) and other sources, the analysis was corrected to take into account factors such as extreme weather events, and assumed changes in yields up to 2050 for three scenarios that differ in climate change factors, economic and social factors, and factors related to production volume.
| | Temperature increase | Extreme weather events (typhoons, floods, droughts, etc.) | Agriculture-related trends | Other social trends |
| --- | --- | --- | --- | --- |
| Sustainability Progress scenario | Possible to keep it below 2°C | Increase to some extent (-) | Tighter regulations on the use of chemical fertilizers, etc. (-) | Population growth, improved living standards, increased demand for food, and some increase in food prices |
| Sustainability Standard scenario | Impossible to keep the temperature below 2°C | Increased frequency and damage (-) | Increase in variety improvement and capital investment (+) | Population growth, higher living standards, increased demand for food, higher food prices |
| Sustainability Stagnation scenario | Much higher than 2°C | Severe increase (-) | Increase in crop diseases and damage to agriculture (-) | Higher food prices, more difficult access to food for the poor |
+: Positive impact on yields  -: Negative impact on yields
Projected changes in yields in major sourcing countries
The sustainability progress scenario assumes a negative impact on yields due to the impact of restrictions on the use of chemical fertilizers. In countries where yield estimates are on an upward trend, yields may increase or remain flat despite the negative factors in the table above.
Barley
| | Progress | Standard | Stagnation |
| --- | --- | --- | --- |
| Europe | | | |
| North America | | | |
| Oceania | | | |
| East Asia | | | |
Hop
| | Progress | Standard | Stagnation |
| --- | --- | --- | --- |
| Europe | | | |
| North America | | | |
| Oceania | | | |
| East Asia | | | |
Corn
| | Progress | Standard | Stagnation |
| --- | --- | --- | --- |
| North America | | | |
| South America | | | |
Rice
| | Progress | Standard | Stagnation |
| --- | --- | --- | --- |
| East Asia | | | |
: >5%

: ±5% or less

: <-5%
It indicates whether the estimated yield in 2050 is increasing (↑), remaining flat (→), or decreasing (↓) compared to the yield in 2018.
Risks and Opportunities, Direction of Response and Measures
According to the results of the scenario analysis, there are areas where yields would decrease in each scenario. Including these impacts, we examined the risks and opportunities facing the Sapporo Group, assuming that the three scenarios become reality.
In terms of risks, we recognize that crop yields could decrease due to abnormal weather, regulations could be tightened, and quality could decline due to pests and diseases. On the other hand, in terms of opportunities, we recognize the stabilization of quality through improved varieties, the development of new varieties, and the enhancement of competitiveness through product development, etc. We believe that by strengthening mitigation and adaptation measures, the impact of risks will be reduced and the potential for capturing opportunities will be greater.
Although the trend of declining yields will occur in each region, we will respond to regional differences by securing diversified sources of procurement. In addition, we will respond to tighter regulations on agricultural chemicals, yield reduction and quality deterioration caused by diseases through "Collaborative Contract Farming System" activities and the development and commercialization of new varieties. These are measures that will be effective in both scenarios.
Item
Risks and opportunities
Direction of response and measures
Risks
Transition risks
Tighter regulations on agricultural chemicals in each country
Increased costs due to the introduction of carbon pricing in many countries
Information on pesticide regulations and understanding of pesticide use
Gathering information on integrated pest management, including biological control and physical removal methods in place of chemical pesticides, and understanding of producer trends
Promotion of decarbonization efforts (achievement of targets for 2030 and 2050)
Increase in demand for food due to global population growth, etc., tightening of export regulations and increase in procurement prices due to decrease in production caused by abnormal weather
Stagnation in procurement of raw materials due to epidemics of new infectious diseases, etc.
Secure diversified procurement sources Gathering and understanding information on global food import and export trends and regulations
Strengthen infrastructure for stabilizing domestic production
Decrease in quality of raw materials due to abnormal weather
Develop and promote high-yielding barley and hop varieties with low risk of quality deterioration due to abnormal weather
Physical risks
Increase in pests and diseases due to global warming
Development and diffusion of new barley and hop varieties with excellent disease resistance Establishment of a pest control system for the introduction of integrated pest management in cooperation with suppliers
Increase in water risks due to heat waves, droughts, and unseasonable rainfall caused by abnormal weather, and increase in frequency and severity of wind and water damage caused by typhoons and torrential rains
Safety of water supply at existing sites and risk assessment for drought and extreme weather
Opportunities
Strengthen competitiveness by improving the efficiency of production systems using ICT and robots, stabilizing quality through breeding, developing new varieties, and developing products
Utilization of new technologies in agriculture through collaboration with domestic and international partners
Development and commercialization of barley and hop varieties adapted to avoid or reduce the effects of climate change such as drought and heavy rainfall
Indicators and Targets
From among the measures and policies described in the previous section, the following indicators and targets have been set for initiatives that the Sapporo Group will focus on in particular. In the area of mitigation measures through the control of greenhouse gas emissions, the Sapporo Group has set medium- to long-term CO2 emission reduction targets. As one of the targets related to the value chain, we have set a new target to reduce CO2 emissions in areas under "Collaborative Contract Farming System" in Japan as one of our future concrete initiatives. We will expand our efforts to domestic cultivation areas, taking into account regulations on pesticides and other substances.
In the area of adaptation measures to avoid or mitigate the damage caused by the effects of climate change, we have set new targets for the main agricultural products of our base beer. The goal is to develop and commercialize varieties that can cope with abnormal weather conditions such as drought and heavy rainfall, as well as water stress and diseases caused by these conditions, which can reduce yield and quality.
Mitigation measures
Reduce CO2 emissions from company-owned sites by 20% from 2013 levels by 2030
Aim to achieve zero CO2 emissions from our own bases by 2050
Strive to reduce CO2 emissions from the entire value chain
 -Deploy emission reduction activities in all production areas under cooperative agreements in Japan by 2030
Adaptation measures
Apply for registration of new varieties (barley, hops) to adapt to climate change by 2030
By 2035, commercialize new varieties (barley and hops) for adaptation to climate change in Japan
By 2050, in addition to the above varieties, develop new environmentally adaptable varieties and put them to practical use in Japan and overseas
We have set targets for other items related to climate change in "Medium- and long-term targets for sustainability materiality," and are promoting Group-wide efforts to achieve them.
We will continue our efforts to understand the risks and opportunities that we have not yet fully analyzed, as well as the measures we are taking to address them and their financial implications.
At the same time, we will continue to enhance the information we disclose. We will also review the information as appropriate in response to changes in social conditions.

Sapporo Group Environmental Vision 2050
Breeding Raw Materials Adapted to Climate Change