Creation of a Base and Town in Harmony with Nature
Environmental Education through Biotope Gardens
Sapporo Breweries opens the biotope gardens of the Shizuoka and Hokkaido factories to regional families and conducts nature observation events.
The Shizuoka factory receives cooperation from the local environmental conservation organization "Yakitsube no Sato Forum," Yaizu Fisheries High School, and the Higashi-mashizu Community Center to conduct its family nature observation events which started in 2010. The Hokkaido factory receives cooperation from Snow Brand Seed and the Arts & Reports for NATURE in HOKKAIDO for their annual summer vacation waterside creature observation event for families.
The biotope gardens will continue to be enhanced and used as a place to educate local children on the environment.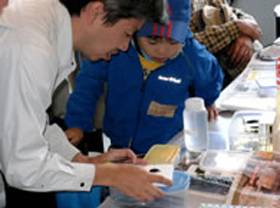 Grape Cultivating Experiences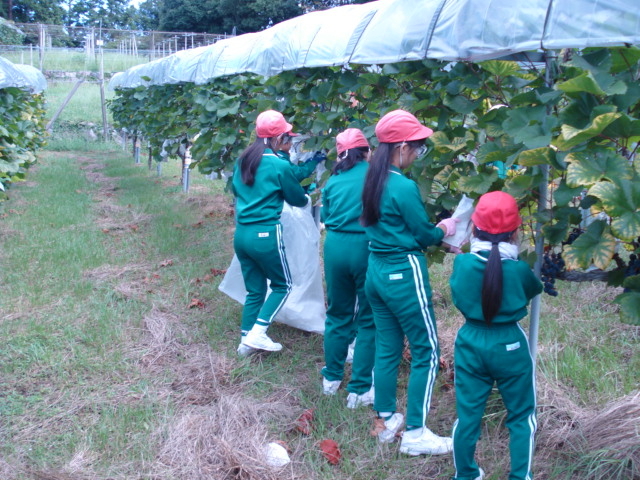 Every year since 2004, Okayama Winery has made part of its grape fields available to the neighboring Karube Elementary School, so that its students can take part in grape cultivation through weeding, bud-picking, flower observation, bagging, and harvesting, alongside winery staff. In this way, Okayama Winery encourages local students to experience the fruits of nature first-hand.
Organizing days and times to carry out the above field work is extremely difficult, as it is greatly influenced both by the weather and by growing conditions, the winery staff enjoy cultivating grapes with the students every year.
Preservation of Endangered Species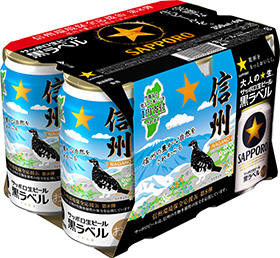 On May 31, 2017, Sapporo Breweries and Nagano Prefecture have entered the "Biodiversity Protection Partnership Agreement" which aims to popularize and enhance protection of the endangered "Raicho" snow grouse.
Furthermore, the Sapporo Draft Beer Black Label's "Shinshu Environmental Support Can" saw a limited release in Nagano Prefecture in December 2016, and again in June and December of 2017.
The fourth installation of this series will be launched in June 2018*, and will feature a QR code for Furusato Shinshu Donations (Hometown Tax) on the product label.
Part of these sales will be donated to support Nagano Prefecture's activities toward environmental conservation.
*The Basic Environment Law has designated June 5 as "Environment Day," and the month of June as "Environment Month" for advocation of environmental conservation activities, of which Nagano Prefecture will conduct throughout the prefecture.
Forest Conservation with CartoCans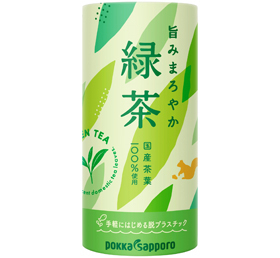 POKKA SAPPORO uses paper beverage containers that are made up of 30% or more domestic materials, including thinned wood generated through forest conservation and cultivation. Along with using Japanese wood resources, a part of product sales is donated to the "Green Fund" to aid, protect and grow Japanese forests. The growth and protection of healthy forests promotes CO2 absorption, which prevents the greenhouse effect, and also supports ecosystem conservation for living things in the forest to conserve our rich national land.
Company Volunteer Activities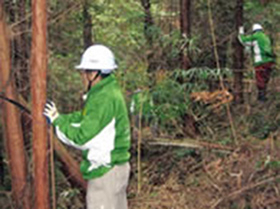 The Kyushu-hita factory is the first corporation to participate in the "Company Participation Forest Development" program in 2002, promoted by Oita Prefecture. With this program, general forest conservation activities with the Takase Forestry Association has been launched at their woodlands, which includes undergrowth cutting, pruning and improvement cutting activities. After the initial participation duration of five years ended, activities continued as the "Hita-Takase Forest Supporters" corporate volunteers for forest conservation, to realize the factory concept of "co-existence with the environment (harmony with nature)" and "co-existence with local citizens." Employees from the Kyushu-hita factory have also been participating in undergrowth cutting and pruning, cooperating with the Takase Forestry Association and the Takase Greenery Boy Scouts.
Conservation of Country-Side Forests
The Sapporo Breweries Kyushu-hita factory participates in the Oita Prefecture's Hita City "Sennen Akari (Lights for thousand years)" festival. This festival is held along with the autumn "Tenryo Festival" and creates a dreamlike landscape by lighting 30,000 bamboo lanterns along Mameda Town and Kagetsu River. Hita City is famous as a production area for Japanese cedar, and cutting down bamboo to create lanterns is also said to be one purpose for the festival, to prevent woodland damage from overgrown bamboo forests. Each year, the Kyushu-hita factory, in cooperation with local elementary school students, participates in the festival's objet d'art category, working for environmental conservation and co-existence with local citizens.
Major Regional Beautification Activities
| | | |
| --- | --- | --- |
| Hokkaido | Eniwa City | Participation in "Eniwa City Clean Walking" |
| Miyagi | Sendai City | Participation and regular street sweeping in the "Arema Campaign" launched by Sendai City |
| Tochigi | Nasu Town | Participation in the 100-member Community for Nasu Road Beautification |
| Tochigi | Nasu Town | Extermination activities for the foreign species cutleaf coneflower (Rudbeckia laciniata) |
| Osaka | Osaka City | Participation in the "Osaka Marathon 'Clean UP' Operation" |
| Fukuoka | Fukuoka City | Participation in "Love Earth Clean-up Fukuoka" |
| Tokyo | Shibuya Ward | Participation in Yebisu/Hiroo/East region cleaning activities |
| Shizuoka | Shizuoka City | Partaking in the "Clean Town Campaign" |
Factory Participation in Adoption Programs
Sapporo Breweries
Sendai factory
Miyagi Smile River Program
Sapporo Breweries
Shizuoka factory
Shizuoka Adopt Road Program
Sapporo Breweries
Kyushu-hita factory
Waterside District Clean-up Institution
Sapporo Breweries
Okayama Winery
Promotion operation for "Okayama Adopt"
POKKA SAPPORO
Nagoya factory
Adopt program at a public facility in Kitanagoya City
POKKA SAPPORO
Gunma factory
Isezaki City adopt program
POKKA SAPPORO
Sendai factory
Miyagi Smile River Program
Creation of a Base and Town in Harmony with Nature