Realization of Containers and Packaging for a Recycling-Oriented Society
The Sapporo Group Containers and Packaging Vision
2050 Long-Term Vision
To ensure that 100 percent of our containers and packaging are suitable for a recycling society
Medium-Term Vision
To maintain and further decrease our use of containers and packaging, through weight reductions and simplification
To increase our use of renewable resources, and to reduce our dependency on exhaustible resources
To deepen our links and cooperation with external parties, and to contribute to the establishment of a sustainable recycling society
Our goal of ensuring that "our containers and packaging are suitable for a recycling society" entails the continued use of cans, glass bottles, and barrels that can be recycled and reused; in addition, it entails the use of renewable PET resins, biodegradable plastics, and biomass materials, as well as the use of FSC-certified paper. By ensuring that 100 percent of the containers and packaging we use for Group business activities are suitable for a recycling society, we intend to reduce our environmental impact.
We recognize the importance of considering the environmental impact of product lifecycles in their entirety, including distribution, materials procurement, and securing usability. To this end, it is our intention to create environmentally friendly designs, engage in research and development of materials and containers and packaging, and improve and expand our production environments.
Container Packaging Past Efforts toward a Recycling-Oriented Society
Various types of containers and packaging are used for the products and services provided by the Sapporo Group. To date, we have been gradually expanding the use of environmentally friendly containers and packaging to prevent global warming and promote the 3Rs. Here we introduce some of the major initiatives undertaken by Sapporo Breweries Ltd. to date. We will continue to promote new initiatives under the Sapporo Group Container and Packaging Vision, aiming for "100% use of containers and packaging compatible with a recycling-oriented society."
[Reduce] Weight Reduction of Containers and Packaging
Sapporo Breweries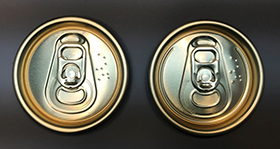 Sapporo Breweries is expanding its use of lightweight aluminum can lids for its beer-flavored beverages.*1
The shape of the cans is modified and beads are embossed*2 on the can lid surfaces, resulting in lighter can lids that still retain the quality of previous can lids. If Sapporo Breweries switched to the use of these lightweight aluminum can lids for all its beer-flavored beverages, based on its results for 2018 it would be able to reduce CO2 emissions by approximately 1,200 tons.

Industry-wide adoption of these lightweight aluminum can lids should be straightforward, neither can manufacturers nor beverage manufacturers are required to carry out large-scale capital investment, and since almost no alterations need to be made to production processes.
The lids were designed and are manufactured by Daiwa Can Company, with practical evaluations carried out by Sapporo Breweries.
The lids received the Kinoshita Award in the Improvement and Rationalization category at the 43rd Kinoshita Awards, hosted by the Japan Packaging Institute, in June 2019.
The thickness of the aluminum substrate is reduced from 0.235 mm to 0.215 mm.
The mass of aluminum used per can lid is reduced by approximately 7% from 3.1 g to 2.9 g.
The addition of beads embossed on the surface of the can lid improves rigidity.
The new lids retain the same pressure-resistance to their contents, and retain the same product quality (ease of opening, etc.) as previous lids.
Neither can manufacturers nor beer manufacturers require large-scale capital investments to use the new lids.
*1 "Beer-flavored beverages" refer to beverages that taste of beer; the category includes beer, happoshu, new category, and non-alcohol beer-flavored products.
*2 "Embossed beads" refer to beads embossed on the surface of the can lids.
Approach to paper packaging materials
By shortening the side flaps by 10 mm each at the top and bottom, we have adopted "short flap corrugated fiberboard," which reduces the area of paper used by up to 2.8%. This reduction in paper usage will reduce CO2 emissions by 149 tons per year (based on actual sales in 2021).

Adoption of lightweight bottles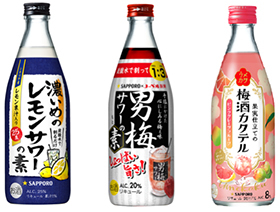 From 2021, Sapporo Breweries will gradually adopt lighter bottles for the 500 ml bottles used in its "Darker Lemon Sour Base," "Male Plum Sour Base," "Umekaku Fruit-Based Plum Wine Cocktail Series," and other products.
[Reuse] Voluntary Collection and Reuse of Glass Bottle Containers
Many reusable containers (bottles, kegs) are used for beer and beverages, mostly with restaurant clients.
Returnable bottles are reused repeatedly through voluntary collection routes and after being transported to factories and cleaned. Many activities for maintaining and improving this reuse system is being implemented, with the aim of "100% collection."
Returnable Bottle Collection Status
| | 2017 | 2018 | 2019 | 2020 | 2021 |
| --- | --- | --- | --- | --- | --- |
| Sapporo Breweries | 99.8% | 99.6% | 99.3% | 102.6% | 100.5% |
| Pokka Sapporo | 97.9% | 98.0% | 98.5% | 116.5% | 92.4% |
* Glass bottle collection volume (kg) ÷ sales volume (kg) × 100
[Recycle] Recycling of Containers and Packaging
Sapporo Breweries and POKKA SAPPORO have participated in recycle organizations according to the materials used in various containers, and also have been making 3R efforts with the cooperation of municipalities.
Furthermore, promotion of container and packaging recycling are being made by promoting recycling on container labels.
| | |
| --- | --- |
| Major recycle organizations | Glass Bottle 3R Promotion Association, Japan Aluminum Can Recycling Association, The Council for PET Bottle Recycling |
| Major municipalities | 9 Tokenshi "Containers and Packaging Diet Statement" |
Ecology-bottles initiatives (Japanese)
Reuse/recycle procedure for used containers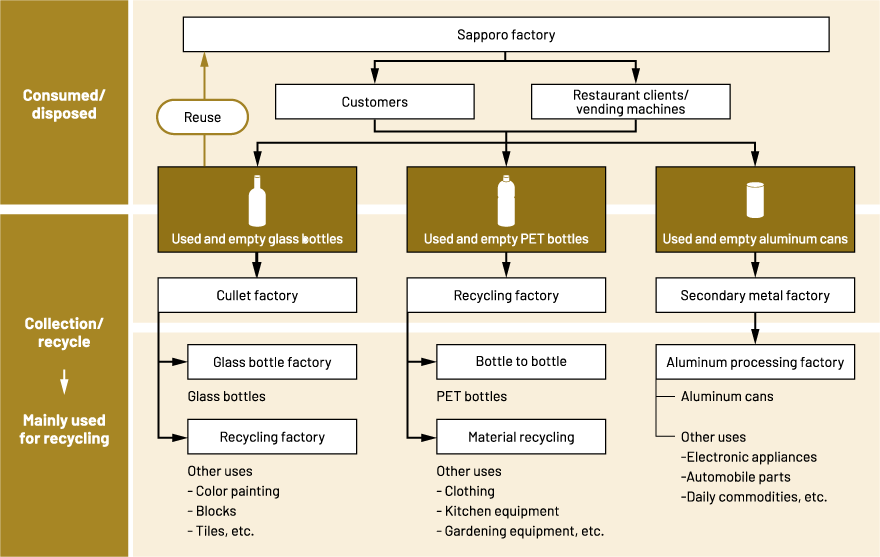 Sapporo Breweries
Use of recycled PET resin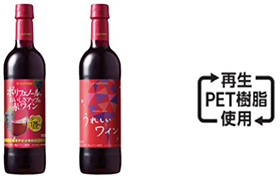 From March 2021 onward, Sapporo Breweries will gradually adopt materials made from 100% recycled PET resin for the 720ml PET bottles used in the "Polyphenol/Organic Acid to Enhance Deliciousness Series" and "Happy Wine Series." Our own "Recycled PET Resin Used" mark is displayed on the product label, and we are also considering changing to a container and packaging material that is compatible with a recycling-oriented society for other domestically manufactured wine PET bottles.
POKKA SAPPORO Food & Beverage
The adoption of ecology bottles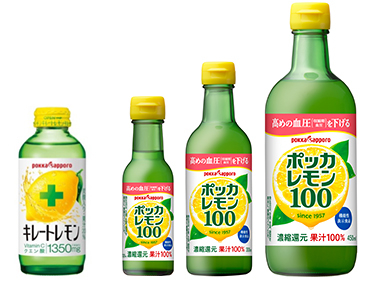 POKKA SAPPORO Food & Beverage uses Ecology Bottles for its green glass "Pokka Lemon 100" bottles.
An Ecology Bottle is a recycled glass bottle made using 90% or more cullet—used glass that has been crushed and is ready to be remelted—recovered from municipal and other collection points. By using the same glass over and over again, these environmentally friendly containers seek to reduce resource usage, reduce energy consumption, and reduce waste volumes.
Recyclable cartons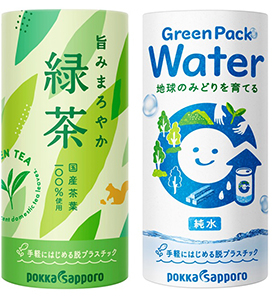 POKKA SAPPORO uses CartoCans for some of its beverages; these containers are made primarily of paper, and contain 30% or more wood derived from domestic forest thinning activities. Since these environmentally friendly products contain no aluminum or other metals, after their contents have been drunk the CartoCans can be cut open and recycled in the same way as milk cartons. By cutting them open, washing them, and drying them, the CartoCans can be collected at in-store and other collection points together with milk cartons. Collected CartoCans can be recycled into a variety of products, including toilet paper, tissues, and cardboard.
Initiatives for Container and Packaging Littering Prevention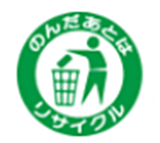 Sapporo Breweries and POKKA SAPPORO conduct public awareness campaigns for recycling through various advertisements with the "No Littering Mark" to promote environmental beautification and to prevent littering of empty containers.
Additionally, the companies have participated and been conducting various initiatives of the Beverage Industry Environment Beautification Association.
Realization of Containers and Packaging for a Recycling-Oriented Society