Basics of SAPPORO GROUP Sustainability
The origin of "manufacturing"
The starting point of activities was the "aspirations" at the company foundation
All started from "creating delicious beer"
Sapporo Breweries started as the Kaitakushi Brewery in 1876. As foreign-made beer was still mainstream during the start of the Meiji era, the company started as a government enterprise in an attempt to domesticize beer brewing. Japanese brewers trained in Germany, the home of beer, worked to create German-type pale-colored beer made with low-temperatures and long maturing times since our founding. The chilly Sapporo climate proved to be optimal in brewing this pale-colored beer. With the belief that "Good materials make good quality beer", our forerunners dared to conduct experimental harvesting of Hokkaido barley and hops as well. From 1880, cultivation was consigned to designated farmers. This promoted regional agriculture and was the start of the "Collaborative Contract Farmers" initiative currently developed by Sapporo Breweries. Our aspirations at founding toward careful selection of raw materials to provide delicious beer to customers has resulted in the Sapporo Group's "passion towards quality", and is the origin of various initiatives, including quality, which have followed.
The father of Kaitakushi beer
The Hokkaido Kaitakushi had initially decided that Tokyo was to be the location for its brewery. Hisanari Murahashi overthrew these decisions and changed the location to Sapporo. Murahashi came from a distinguished family of the Satsuma clan and was also one of the clan students who studied abroad in England in 1865. Murahashi was educated in the importance of ice for beer brewing through his experiences with brewer Seibei Nakagawa. He made an appeal to change the brewery location to Hokkaido, due to the necessity of acquiring ice and if the goal was to encourage agruiculture and businesses through beer manufacturing in Hokkaido. With this, he was successfully able to change Chief Kiyotaka Kuroda's mind and receive approval.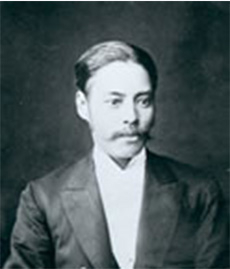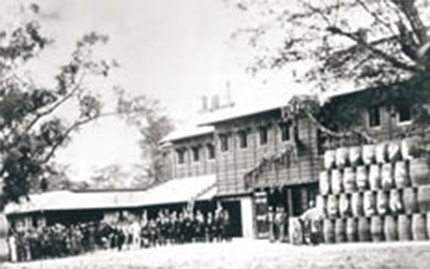 Foreign teachers were overjoyed with the Kaitakushi beer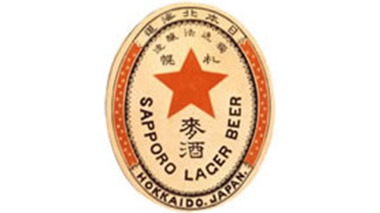 There are recipes existing that show the raw materials and alcohol percentages of the beer manufacturing during this time. According to them, beer was 100% malt with a slightly larger percentage of hops. It was said that the beer manufactured during this period was authentic German beer, which is bitter with a stronger fullness. David Penhallow, a foreign teacher at the Sapporo Agricultural College, sampled some under the request of the Kaitakushi Brewery, and made the following comment: "The color of the beer is glorious and shining, it gradually turns crimson and bubbles start to rise after some time. The bitterness is just right, and above all, the fragrance can be enjoyed twice, which is most enjoyable."
Pioneers in hop research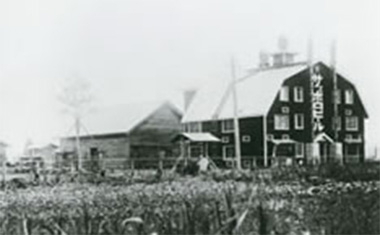 Sapporo Breweries has conducted research and breeding on hops ever since its Kaitakushi Brewery era. One result of these activities is the "Shinshu Wase" breed. It was born in 1919, and it is an old but high-quality breed which is still planted to this day. As hops are prone to illnesses and are difficult to grow, the accumulated know-how of Sapporo Breweries has guided farmers and resulted in procurement of high-quality raw materials.
The origin of "For the smiles of our customers"
To always be a company appreciated by customers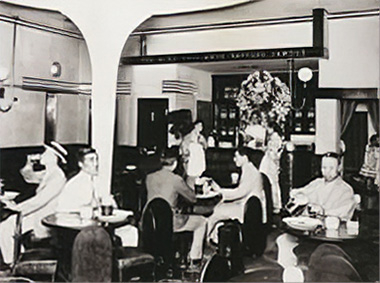 Creating a location of joy and emotions with "delicious beer"
In August 1899, the first beerhall in Japan opened in what is currently Ginza 8-Chome, Chuo Ward, Tokyo. The "Yebisu Beerhall" was the origin of Sapporo Lion. This happened at the time when the unequal treaties between foreign countries were revised, resulting in an elated social environment looking forward to the commemorative ceremony the next day.
Although beer had become popular in metropolitan areas as a stylish beverage around the end of the Sino‐Japanese war, the birth of the "Yebisu Beerhall" was dramatic enough to alter society as well. The newspapers at this time wrote, "There is no distinction between class or rank. In this place, frock-coats sit with military uniforms to all drink frothy beer, bidding farewell with a smile." The "Yebisu Beerhall" was a new cultural symbol equality, where all people could enjoy drinking and feasting.
Ever since the birth of beerhalls to the current day, many customers and regulars gather daily to be served "delicious beer". As a company who created the beerhall, we will continue to deliver new opportunities to drink and feast with joy and emotion, in all periods of time.
The father of beerhalls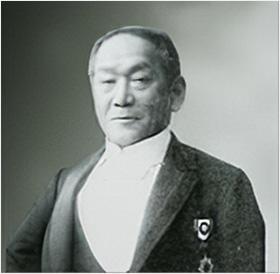 Makoshi Kyohei, president of the Japan Beer Brewery Company, was the founding father of the "Yebisu Beerhall". His excellent sales strategy caused a dramatic rise in Japanese beer and he was hailed the "King of Oriental Beer".
The aim of opening the beerhall was exclusively to advertise "Yebisu Beer". His ideas hit the mark, and sales boomed, selling 1,000 liters of beer on some days.
Focus on spaces where people gather
Although the restaurant only was 132.231 square meters in size, it featured novel decoration for that time, such as a counter to the left of the entrance, nickel-stands and linoleum floors. Beer was served in glass mugs and cost 10-sen for a half-liter. Opening day of the restaurant saw 225 liters sold, the second day 245 liters, and the third day 450 liters. The popularity caused many customers to visit from afar, making the restaurant the hot spot for Edo citizens, who loved novel things.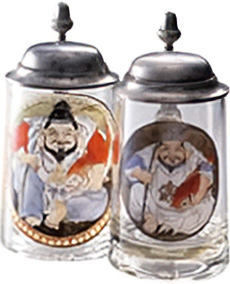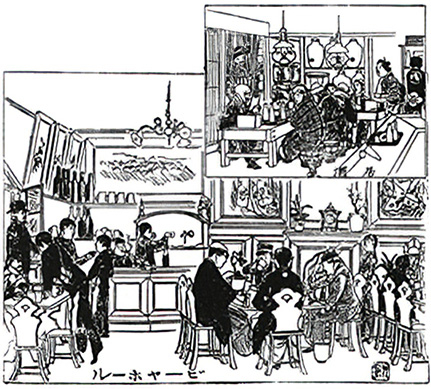 Aspirations concentrated in one cup of draft beer
The Beer Hall Lion Ginza 7-Chome opened in 1934 and is the oldest surviving beerhall in Japan. It was designed by architect Eizo Sugawara, who was active during the Taisho era to the early Showa era. The restaurant features glass mosaic walls and interior design that allows visitors to experience the same hall atmosphere as when it was constructed, in the current day.
Sapporo Lion beerhalls serve beer with the traditional "pouring in one action" technique, and also offer strict quality management and extreme care of its draft beer. This allows everyone to enjoy delicious draft beer, which puts a smile on visitors' faces. Each glass contains our pride and confidence, as Sapporo Lion never fails to serve the highest-quality draft beer available.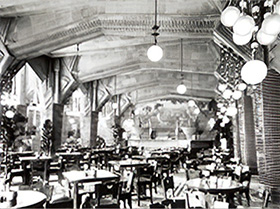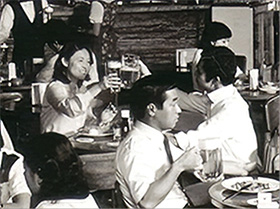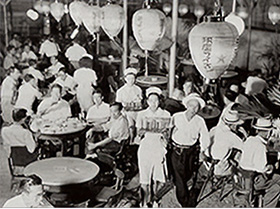 As a Group that provides joy in many facets of life
Ever since our foundation 130 years ago, the Sapporo Group has expanded its horizons to diverse fields with creating a beer culture at its core. In the present day, the Group has grown into a corporate cluster with various businesses to include not only alcoholic beverages, but also food, soft drinks, restaurants and real estate. Sapporo Group strives to develop and provide products and services that are closely-knit to lifestyles and offer enjoyment to customers, while making sincere efforts to correspond to various social needs in each era.
From now on as well, the Sapporo Group will deliver happiness, deliciousness, creativity, and enrichment to our customers, thereby earning their trust. We will continue to be a corporate group that contributes to the development of local communities and society as a whole.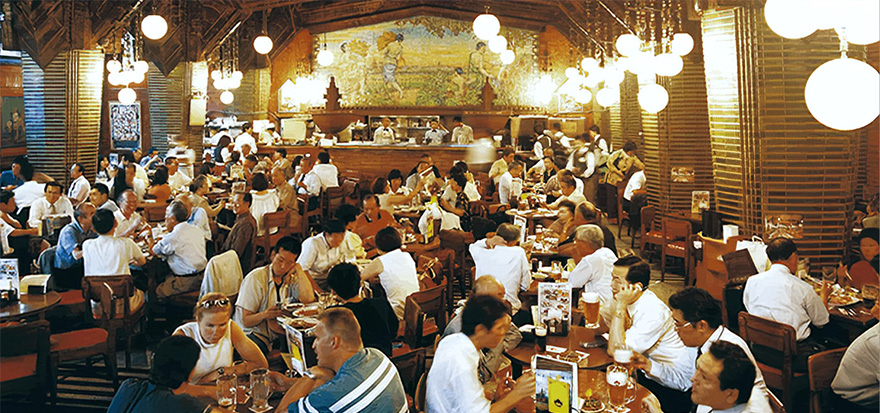 Basics of SAPPORO GROUP Sustainability