Reducing of CO₂ Emissions at Our Sites and Supply Chain
Sapporo Breweries
The Sapporo Group Basic Environmental Philosophy and Basic Policy
In accordance with our management philosophy "As an intrinsic part of people's lives, Sapporo will contribute to the evolution of creative, enriching and rewarding lifestyles," the Sapporo Group is committed to ensuring that each and every one of its employees strives to protect the global environment and acts proactively to create a sustainable society throughout the entire lifecycles of the products and services that the Group provides in all of its business fields.
Promotion of global warming prevention by incorporating unused energy sources
Developments in waste heat (unused energy source) collection, which had not been applied up to this point, are progressing and being effectively applied as a heat source for beer brewing processes and other processes to reduce environmental impact (waste water treatment). Energy formerly used for activities such as heating water have been reduced by applying unused energy sources including heat from beer fermentation, waste heat from boiling processes, waste heat from combustion, waste heat from equipment, and waste heat from waste water treatment.
Example of systems installed in factories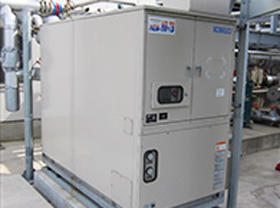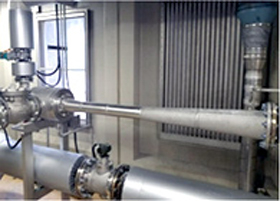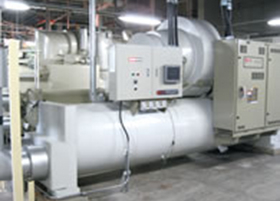 Incorporation and development of new technologies
At Sapporo Breweries, we are working to reduce the amount of fuel and electricity used at our plants by increasing the efficiency of utility facilities* used in the beer production process and reducing operational losses through a review of the volume control system.
* Boilers, refrigerators, compressors, cogeneration systems, heat pumps, etc.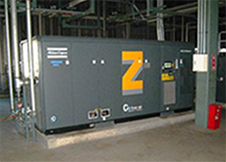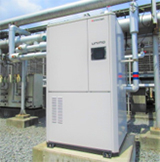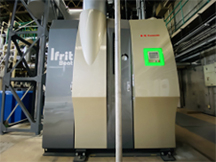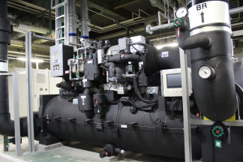 Ozone layer protection and suppression of fluorocarbon
Sapporo Breweries is actively moving forward with environmentally-friendly measures in freezing facilities for beer manufacturing processes. With the aim of protecting the ozone layer and curbing global warming, we began switching refrigerants in the refrigeration equipment used in the beer manufacturing process in 2018, and are replacing some of the refrigeration facilities with low-GWP refrigerants and natural refrigerants. Furthermore, equipment inspections will be regularly made under the laws and regulations of suppression of fluorocarbon to ensure legal compliance.
Initiatives to improve transportation efficiency
The Sapporo Group has been making efforts to alleviate its environmental impact by improving vehicle load efficiency and reducing the number of vehicle units overall through collaboration with other manufacturers since the 2000s.

In recent years, in September 2017, Sapporo Breweries, Asahi Breweries, Kirin Brewery, and Suntory Brewery started joint transportation by rail and land in the Doto region of Hokkaido.

In November 2018, the same four companies started a preliminary rollout of joint collection of beer pallets in six prefectures in the Tohoku region (Aomori, Akita, Iwate, Yamagata, Miyagi, and Fukushima prefectures). After that, the area was gradually expanded and expanded nationwide from November 2019. The joint collection means that the pallets that were collected separately by the four companies will be collected by one representative company, which will improve the loading rate of collection vehicles and reduce the number of vehicles required for collection, resulting in a total reduction of approximately 5,158 tons of CO2 emissions per year (approximately 37% compared to the previous system) for the four companies.

In December 2019, Sapporo Breweries, Ebara Foods Industry, Inc. and Japan Pallet Rental started joint transportation between Okayama and Kyushu. The distance between Okayama and Oita/Fukuoka is approximately 500 km, and each company had to arrange for a one-way vehicle; the three companies collaborate to transport the actual vehicles for both round trips, enabling efficient transportation with a single vehicle, ensuring stable trunk line transportation in the region, and reducing CO2 emissions by approximately 15.2 tons per year (approximately 5% compared to the previous system).

Promotion of modal shift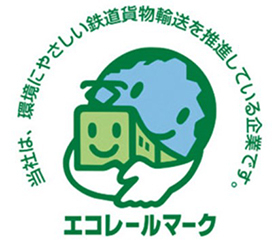 Sapporo Breweries promotes a modal shift, which is to switch distribution methods from trucks to trains and marine transportation, which results in less CO2 emission. The company has been certified by the Ministry of Land, Infrastructure, Transport and Tourism as a company that is committed to environmentally friendly rail freight transportation, and was the first in the beer industry to receive the "Eco-Rail Mark" in 2006.

In April 2018, four companies (Sapporo Breweries, Ltd., Asahi Breweries, Ltd., Kirin Brewery Company, Limited, and Suntory Beer Limited) began joint transportation between Kansai, Chugoku, and Kyushu.
As for new initiatives in marine transportation, we are implementing a modal shift to marine transportation between Chiba and Osaka from November 2019 by using RORO ships*.
* RORO ship is a vessel in which a truck or chassis (cargo bed) carrying cargo is boarded and transported.
In July 2020, we switched from truck transportation to marine transportation using coastal vessels between the Sapporo Vietnam Long An Plant in southern Vietnam and northern Vietnam (a distance of approximately 1,600 km). We estimate that this will reduce CO2 emissions by about 450 tons per year, and we are working to reduce our environmental impact.
"Green Management Certification" acquired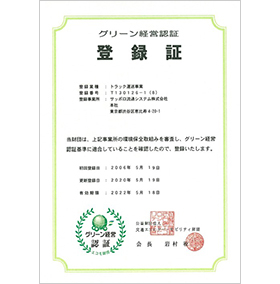 SAPPORO LOGISTICS SYSTEMS CO., LTD has acquired "Green Management Certification" for its head office and offices, and has also been satisfying certificate renewal criteria every two years since 2008 (certification registration has been completed in May 2020).

SAPPORO LOGISTICS SYSTEMS CO., LTD has been certified and registered for satisfying all items in the Green Management Certification Standards of "Implementing structures/systems for environmental conservation," "Implementing eco-driving," "Incorporating low-emission vehicles," "Vehicle inspection and maintenance," "Promotion of recycling, proper disposal and disposal control of waste and vehicle scrap," and "Promotion of environmental conservation in the management department (office)."
Initiatives for Product Environmental Information Disclosure
Products labelling their carbon footprint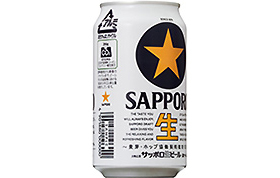 In 2004, for the first time in the industry, Sapporo Breweries implemented LCA based on ISO14040 to quantitatively assess the utilized resources and emission of greenhouse gases throughout the entire process of beer manufacturing, from raw materials to manufacturing products and disposal. In 2008, the carbon footprint of "Sapporo Draft Beer Black Label" (display of the CO2 emissions per can) was calculated and displayed at the "Zero Emission House" at the Hokkaido Toyako Summit. In 2009, canned beer with labelling of its carbon footprint was released for sale in Hokkaido for the first time in the world.
The current calculation standards for "beer beverages" are published as a certified PCR in the Japan Environmental Management Association for Industry's Carbon Footprint Communication Program.
| | |
| --- | --- |
| Ingredients procurement | 54% |
| Product manufacturing | 19% |
| Product transportation | 2% |
| Sales | 25% |
POKKA SAPPORO Food & Beverage
POKKA SAPPORO's manufacturing plants (food and beverage) are steadily engaged in energy-saving activities every year. To further reduce energy consumption, all the boilers have been switched to once-through boiler operation at the Nagoya Plant, and the solar panels have been installed on the plant roof and the LED lighting has been introduced at the Gunma Plant.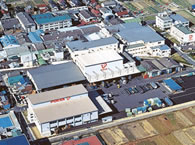 Sapporo Lion
Sapporo Lion has been developing environmentally-friendly restaurants in various forms to reduce CO2 emissions.
For "Yebisu Bar," which has been developing in recent years, and for "Ginza Lion," which has been growing with new restaurants in various regions, energy-conserving LED lighting has been used for most hall lighting. In existing restaurants as well, lighting has been changed to LED lighting and kitchens have also been transitioning to environmentally-friendly refrigerators and icemakers.
Furthermore, energy and water conservation pamphlets have been distributed to each restaurant and water and utility charges have also been visualized to grasp excess and uneven use in different time slots. Based on information from these activities, energy conservation activities are being implemented during business hours, such as frequently turning switches on and off, configuring proper temperatures for air conditioning and kitchen equipment, along with appropriate operation methods.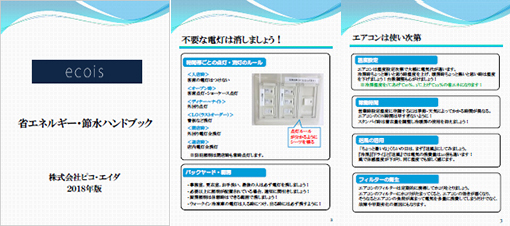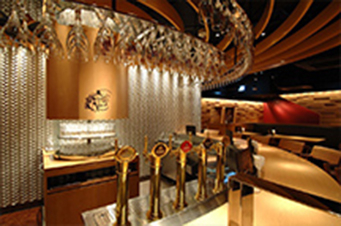 SAPPORO REAL ESTATE
Efforts to save energy
At Yebisu Garden Place, in accordance with the Tokyo Metropolitan Government's Global Warming Countermeasure Plan System, we are working to reduce greenhouse gas emissions by improving the operation of office building air conditioners, using Low-E glass for windows with high thermal insulation performance, switching to LED lighting in stages, and introducing high-efficiency, renewable energy equipment in conjunction with equipment upgrades.
In addition, we include the acquisition of environmental certifications (BELS certification, CASBEE-SDGs certification) in our consideration of property renovations and VA*.
We will continue to promote energy-saving initiatives with the understanding of our tenants and reduce the environmental impact of our building operations as much as possible.
* VA: Value enhancement to make a property more in line with the needs of the times, such as seismic retrofitting of existing properties and energy conservation measures.
Aiming for zero CO2 emissions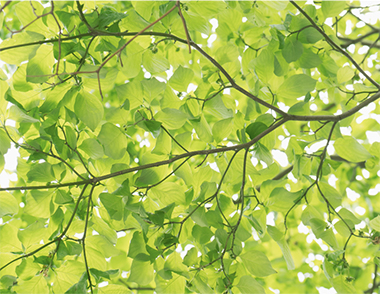 SAPPORO REAL ESTATE is working to achieve zero CO2 emissions by steadily implementing energy-saving measures, introducing renewable energy, and fundamentally examining heat sources for our properties. As a first step toward the introduction of renewable energy, we are aiming to switch to renewable energy sources by 2022 for the electricity used in our offices and common areas of our facilities at Yebisu Garden Place.