For Further Customer Satisfaction
Operation of Customer Support Desks
Sapporo Breweries
Sapporo Breweries develops its business operations under the corporate philosophy of a "rich and rewarding lifestyle for our customers," aiming to be a company that is trusted by customers and can offer new ways of enriching lives and enjoyment. Therefore, to further promote customer-oriented management, we have declared our "Independent Consumer-Oriented Statement."
Furthermore, initiatives to apply "customer opinions" into business activities through constructing management systems for customer correspondence based on "ISO 10002/JIS Q 10002" certifications are also being promoted.
POKKA SAPPORO Food & Beverage / Sapporo Lion
"Customer support desks" are provided at each company to apply customer feedback as valuable management information. The collected customer feedback will be discussed at related departments toward new product development and improvement of products and services.
SAPPORO REAL ESTATE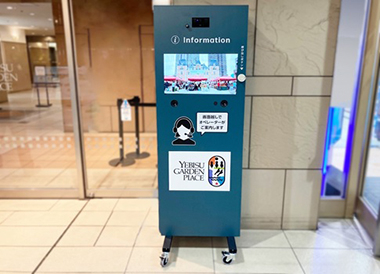 SAPPORO REAL ESTATE has installed survey boxes to collect customer feedback, and also has arranged information desks and telephone lines to directly correspond to customer inquiries at the "Yebisu Garden Place" and "Sapporo Factory" facilities.
Furthermore, initiatives for swifter service are being taken at "Sapporo Factory"—it is open to inquiries and requests at any time of day through e-mail from the webpage or by telephone.
Incorporating Customer Feedback
Sapporo Breweries
Example
We made it possible to see the remaining amount of "Koime lemon sour base."
In response to customers' comments that they cannot see how much is left in the bottle, we created a window on the label so that they can see the remaining amount at a glance.

We also launched the RTD canned product "Sapporo Koime no Lemon Sour" and "Koime no Lemon Sour no Moto PET 1.8L" in response to customers' comments that they wanted us to release a larger capacity product and a convenient can type.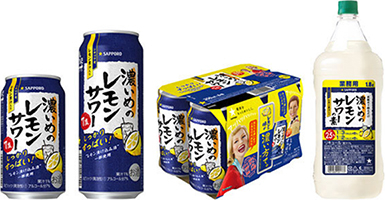 Sharing Customer Feedback
Customer satisfaction investigation with receipt questionnaire
Sapporo Lion conducts a "receipt questionnaire" with the aim of improving customer satisfaction.
From the receipt questionnaire items, "overall satisfaction" in the areas of draft beer, food, service, and cleanliness is tabulated, and "store growth" is confirmed by comparing the trends of the previous three months, the same month of the previous year, and the business category average. We recognize our own store's strengths and areas for improvement, share them with our staff, and plan and implement measures to improve the quality of our stores.
Information Disclosure to Customers
The Sapporo Group offers information on products and services to customers through the internet. Sapporo Breweries has a "Customer Support Desk" within its webpage, along with frequently asked questions from customers and corresponding answers. The published content is updated as necessary, in the company's efforts to always provide new information.
The Sapporo Lion webpage offers information on restaurants according to area, business category, intent of use, and offered beer type. The website supports the customers' search for the perfect restaurant by offering various methods of searching.
Product Development with Customer Health in Mind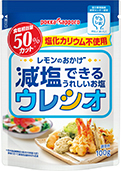 The Ministry of Health, Labour and Welfare has designated the recommended amount of daily sodium intake within the dietary reference intake for Japanese people. It is said that Japanese citizens tend to intake more sodium than is recommended in this standard.
Along with introducing tips on how to reduce the amount of sodium eaten in a tasty way by including lemons in one's diet, POKKA SAPPORO has released the low-sodium "Lemon no Okage Ureshio" as a part of its activities to raise awareness toward sodium reduction.
"Lemon no Okage Ureshio" does not modify its reduced-salt taste by adding potassium chloride, but uses the acidity of lemons for sodium reduction, enabling customers who are watching their potassium intake to use the product like conventional salt.
* There is a miniscule amount of potassium e in "Lemon no Okage Ureshio" from the raw materials used (32.7 mg per 100 g)
TOPICS
In 2019, we acquired the "Karushio Certification" from the National Cerebral and Cardiovascular Center. We are sampling the product as a tasty way to reduce salt intake.
* Karushio is a new way of thinking about salt reduction in which salt is used lightly to bring out the flavor of the product.