Social Contributions
Basic Approach to Social Contribution
At the Sapporo Group, we have defined our basic policy on social contribution as follows: "to contribute toward regional development—with a focus on 'environmental conservation' and 'next-generation upbringing'—through Group operations and our ties with local communities."
Ever since our establishment, we have been grateful for the support we have received in the countries and regions in which we do business; for this reason, we have taken care to communicate and engage in community-based activities that contribute toward society.
If we wish to continue growing, we believe it is vital that the regions we operate in are both healthy and sustainable.
Going forward, our employees will continue to actively study the strengths, sports, culture, and traditions of the communities they work in. As members of these societies, they will provide support for regional development and help resolve any issues they face, with the goal of creating a better future.
Sapporo Group
Supporting the Hakone Ekiden for 35 years
For 34 years since 1987, Sapporo Group has been supporting the Hakone Ekiden Race, considered a New Year's day tradition in Japan.
The entire relay race spans more than 200 km, with teams of young runners from various colleges running sections. When they reach the next relay station, they hand over their teams' sashes, which signify the colleges' tradition and pride, to the next runners on their teams. The single-minded attitude with which these athletes run for the sake of their teammates and the honor of their schools also resonates with Sapporo Group's spirit and conviction about manufacturing. Therefore, we plan to keep supporting the Hakone Ekiden.
Our employees also sell event-related products near the turnaround point and part of the proceeds are donated to the Hakone Trust Fund every year, to be used for preserving the natural environment in the town of Hakone.*

*The charity sales for the 97th race (held in January 2021) have been cancelled due to the spread of novel coronavirus.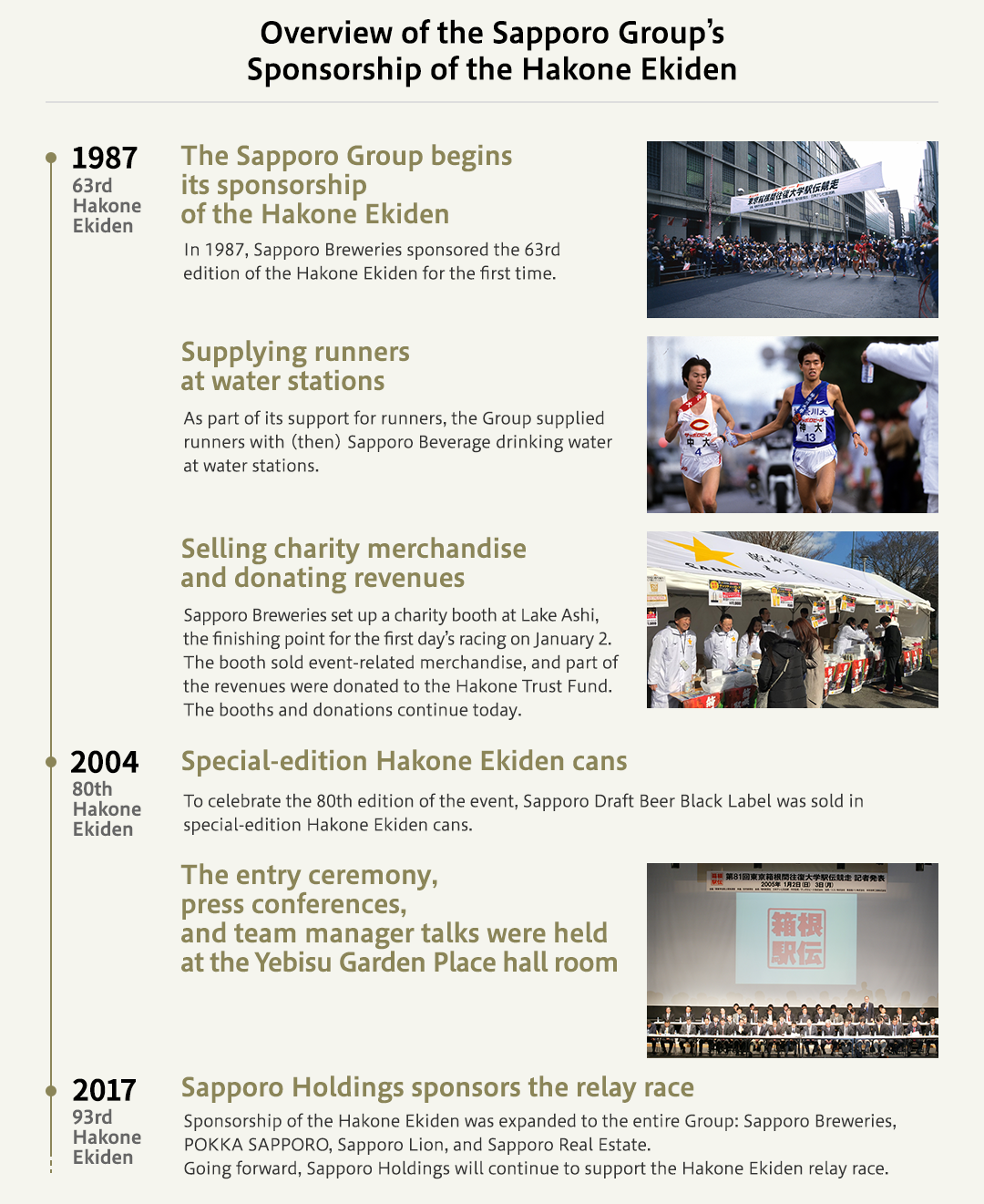 Conclusion of the "S-SAP (Shibuya Social Action Partner) Agreement (comprehensive partnership agreement)" with Shibuya Ward
On October 19, 2016, Sapporo Holdings concluded the "S-SAP Agreement (comprehensive partnership agreement)" with close cooperation with Shibuya Ward for the goal of solving regional issues in the local community. This agreement applies the know-how of private enterprises with the aim of resolving regional issues through collaboration/cooperation of public and private entities. The Group will cooperate to support eight initiatives including "Support for next-generation upbringing," "Support for revitalization of Ebisu district," "Support for sports, health promotion," "Sightseeing and support for culture," and "Support for enlightenment activities for realization of a diverse society (diversity)." We will continue to reinforce social contributions as a trusted partner of Shibuya Ward through our business operations.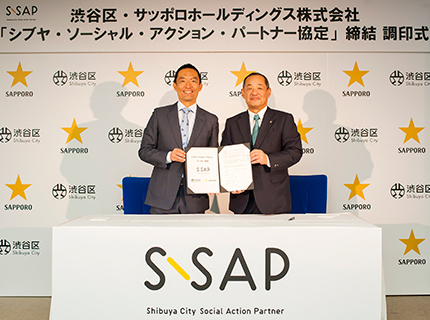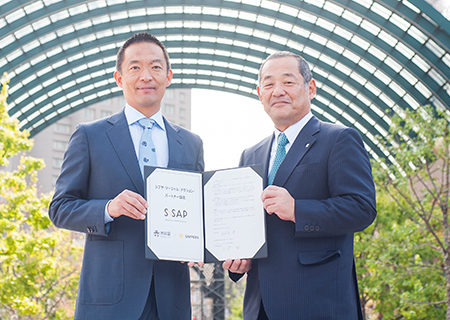 Shibuya Ward website (S-SAP) (Japanese)
*This link connects to an external website
TOPICS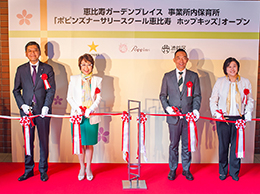 Opening of an "in-house nursery"
The Sapporo Group has been making efforts to create an environment in which everyone can exhibit their full potential. As one facet of this operation, a "consortium-type" (for multiple companies) in-office nursery opened in Yebisu Garden Place in April 2017. The nursery is not limited to the Sapporo Group, but also extends support to working mothers and fathers of tenants within Yebisu Garden Place and regional families, as a measure to reduce the number of children on nursery waiting lists for Shibuya Ward residents.
Supporting the Orange Ribbon Activities for child abuse prevention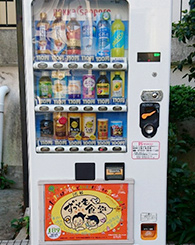 As part of its support for nurturing healthy children who will carry the next-generation, the Sapporo Group co-sponsors the Orange Ribbon Activities for Child Abuse Prevention. To support these activities together with Shibuya Ward, with whom the Sapporo Group has concluded the "Shibuya Social Action Partner (S-SAP)" agreement, a comprehensive partnership agreement, we donate money every year.
Pokka Sapporo Food & Beverage Ltd. is supporting young people and their families in Tokyo through Peer Support Net Shibuya, an NPO, and is also carrying out activities to increase awareness about the Orange Ribbon Campaign, utilizing vending machines located at public facilities in Sapporo City.
The Sapporo Group has also installed Orange Ribbon Campaign support vending machines in Tokyo and Sapporo City, and donates part of their sales revenue.
*Clicking this link will take you to an external link.
Peer Support Net Shibuya, an NPO
Sapporo City Support Hot Fund
Providing opportunities for workplace experience and internship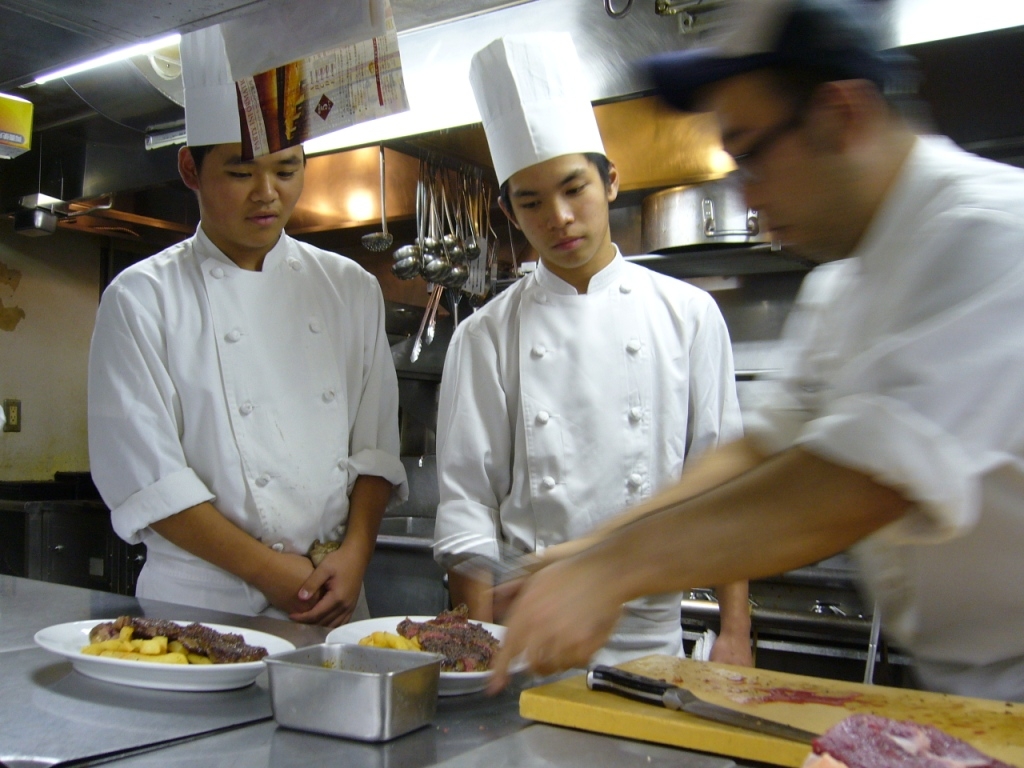 To help nurture children who will carry the next-generation, the Sapporo Group provides workplace experience opportunities to junior high school students and internships to high school and college students. We are providing a platform for gaining a deeper understanding about the importance of work and its relation to future society through work experiences at Group companies such as Pokka Sapporo Food & Beverage, Sapporo Lion Ltd., and Sapporo Real Estate Co., Ltd.
Sapporo Breweries
Supporting the All Japan Early Morning Baseball League under the slogan of "Win or Lose, Enjoy a Sapporo Beer!"
The All Japan Early Morning Baseball League was established in 1981 as a national organization of amateur rubber-ball baseball teams under the motto of "health and friendship" and with the goal of promoting and developing sports through baseball. (The members consist of 150,000 players and 8,000 teams nationwide.) Sapporo Brewery has been supporting the league, which has been operating under the slogans of "Toast to Sportsmanship!" and "Win or Lose, Enjoy a Sapporo Beer!" since its founding.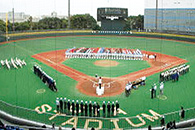 Holding "Space Lessons"
Since 2006, Sapporo has teamed up with the Russian Academy of Sciences and Associate Professor Sugimoto of Okayama University, Institute of Plant Science and Resources Laboratory to investigate the possibilities of "food" in space. Of these activities, the seeds of "Haruna Nijo," a barley variety developed by Sapporo Breweries, has spent five months in the International Space Station and returned to earth as "space barley."
With the cooperation of Associate Professor Sugimoto, Sapporo Breweries has been holding the hands-on event "Space Lessons" twice every year from 2008, at the bio-research and development test field in Ota City, Gunma Prefecture, featuring lessons incorporating the seeds of "space barley." Local elementary school children sow seeds in autumn and harvest the seeds next spring.
This initiative aims to reinforce children's interest in space through these events, with the hope that a future scientist or astronaut will emerge from the participants of these events. We will continue to nurture children's "dreams about space" with our activities.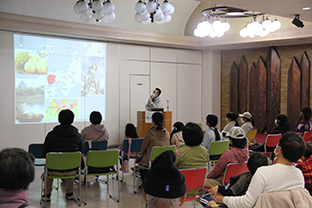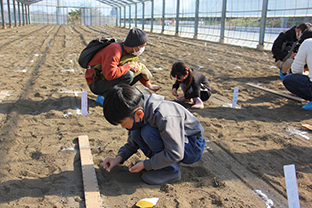 VOICE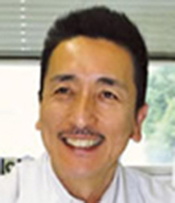 Okayama University, Institute of Plant Science and Resources Laboratory Associate Professor
Professor Manabu Sugimoto
These hands-on events using "space barley" are perfect opportunities to teach children that having humans go beyond the earth's atmosphere and to use and live in space is no longer just a dream, and active research is being undertaken to make this a reality. I hope this will help connect space and children as a bridge to the future.
Factory greening activities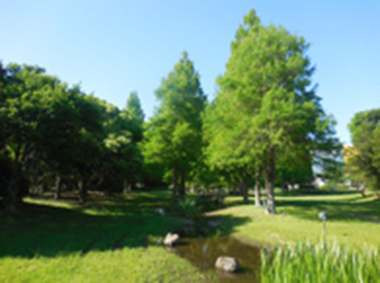 The Sapporo Breweries Shizuoka factory has been promoting greening activities from its establishment in 1980, as a regional contribution initiative. The biotope garden, the symbol of greenery activities, has been opened to local citizens from 1998, and is also used as an area for environmental education in local kindergartens, elementary and middle schools. These activities have received the "Director-General's Award" of the Kanto Bureau of Economy, Trade and Industry, and the "Minister of Economy, Trade and Industry Award" at the Factory Greening Promotion National Convention.
Sapporo Breweries & SAPPORO REAL ESTATE
Employment of people with disabilities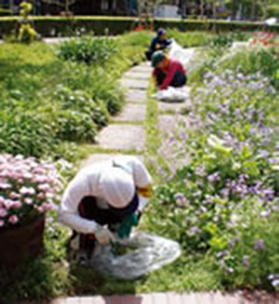 Sapporo Breweries and SAPPORO REAL ESTATE has been providing opportunities and places for individuals with disabilities to be rewarded, and supports their participation in society. The Sapporo Breweries Sendai Factory and Yebisu Garden Place are two areas in which tasks such as mowing, weeding, and cleaning are outsourced to teams at local organizations for the disabled (social welfare service corporations).
Sapporo Group Logistics
Conducting traffic safety activities
Since 2017, Sapporo Group Logistics has invited children and kindergarten teachers from local kindergartens to its traffic safety classes, with the goal of creating a safe society in which children can live happily. In 2019, Hokkaido Branch (Eniwa City, Hokkaido), Shizuoka Branch (Yaizu City, Shizuoka Prefecture), and Kyushu Branch (Hita City, Oita Prefecture) worked together with the company's logistics partners to hold traffic safety classes taught by instructors from local traffic safety associations. Children learned how to correctly cross the road at traffic lights and how to walk on the roads, rode trucks and forklifts, and experienced blind spots as seen by truck drivers. Sapporo Group Logistics also works together with local communities to carry out activities aimed at increasing public awareness of traffic safety. These include standing by the roadside and waving flags urging drivers to drive safely, and participating in truck parades hosted by local traffic safety associations.