Creation of Safe Facilities
SAPPORO REAL ESTATE Initiatives
Creation of safe and secure facility spaces
In addition to compliance with various laws and regulations, the real estate operation also develops safe and comfortable facilities and spaces. SAPPORO REAL ESTATE strives to create safe and comfortable facilities under their management philosophy of "Offering a 'Luxurious Time' in a 'Luxurious Space' for Cities and Society as a Whole."
View All
Ongoing "Yebisu Garden Place" initiatives
- Establishment of cooperative systems with related organizations (police, fire department, JR, neighborhood, etc.)
- Implementation of self-defense fire drills
- Inspection and confirmation of fire prevention in kitchens and other areas for restaurant tenants
- Conducting periodic cleaning inspections
Ongoing "Sapporo Factory" initiatives
- Build cooperative systems with related parties (police, fire department, JR, neighborhood, etc.)
- Ongoing crime prevention patrol and training
- Implementation of fire safety measures according to industry and business type
 > Common measures to reduce the risk of electrical fires for all tenants
 > Measures to reduce the risk of kitchen fires in food and beverage establishments, etc.
- Installing SOS stations to provide safety and peace of mind to neighboring residents during the nighttime. Resident security guards ensure the safety of individuals by helping to prevent crimes or accidents and make reports to the police and fire department as necessary.
- Regular implementation of cleaning inspections.
Offering comfortable spaces
YEBISU GARDEN PLACE
Yebisu Garden Place was designed and is managed under the concept of "creation of a space which people who work, play or live in spend a luxurious time." Furthermore, the "Yebisu Skywalk," the moving sidewalk that connects the Yebisu Station with Yebisu Garden Place, features braille blocks.
SAPPORO FACTORY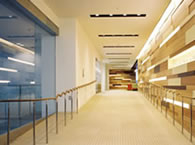 Ever since the Sapporo Factory opened in 1993 as a large-scaled commercial complex featuring approximately 160 shopping, restaurants and amusement facilities, botanical displays are located throughout the facility and outside of the landmark, to create pleasant spaces for customers. Furthermore, we are gradually implementing facility enhancements that prioritize the safety of diverse customers, such as incorporating universal design into facilities like stair railings and installing "consideration spaces" in parking lots.
Preparation for unforeseen disasters
Both Yebisu Garden Place and Sapporo Factory are prepared for unforeseen disasters, with disaster prevention systems and earthquake countermeasures in place.
Status of existing disaster prevention measures
YEBISU GARDEN PLACE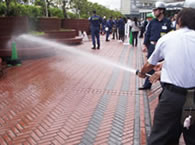 - In-house firefighting training conducted (twice annually) with a focus on tenant firefighting squads
- Educational training on tenant fire prevention/disaster prevention managers, etc.
SAPPORO FACTORY
- Fire drills focused on in-house firefighting squads (twice annually)
- Standard lifesaving training conducted
- Rescue training for elevator baskets (as necessary)
Seismic isolation device with a total weight of 1,350 tons that reduces the shaking caused by long-period seismic motion
We have installed the TMD*1 type seismic isolation device called "D3SKY-L" (pronounced as "D-Sky-L") developed by Kajima Corporation on the rooftop of Ebisu Garden Place Tower. With a total weight of 1,350 tons, this device effectively reduces the shaking caused by long periods of seismic motion.
Ebisu Garden Place Tower is a structurally evaluated and Minister-certified building completed in 1994, ensuring high levels of safety. The installation of D3SKY-L has significantly reduced the amplitude and duration of any shaking that affects the building, ranging from large earthquakes, including long-period seismic motion, to small- and medium-sized earthquakes. This state-of-the-art seismic building provides even greater safety and peace of mind for all occupants. Simulations conducted using the seismic motion from the Great East Japan Earthquake have confirmed that the shaking in all directions is reduced by half.
*1 TMD: Tuned Mass Damper, a seismic isolation device that uses a mass that moves to counteract the building's shaking by adjusting its frequency.
*2 D3SKY-L: Dual-direction Dynamic Damper of Simple Kajima stYle - Layered system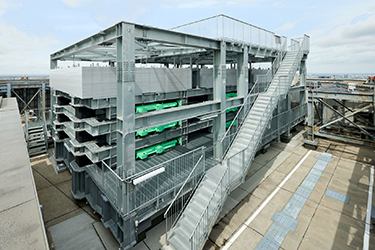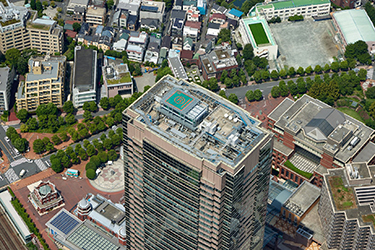 Creation of Safe Facilities