Reduce and Recycle Plastic Resources
The Sapporo Group Plastics Policy
In order to realize a sustainable society, the Sapporo Group will contribute to the creation of a recycling-oriented society by taking the following steps to examine and tackle the plastics used in its business activities.
Review the situations in which plastics are used and eliminate unnecessary use.
Work to reduce the volume of plastic used.
Convert to highly recyclable designs, recycled materials, and biomass plastics.
Specific Efforts
Sapporo Breweries
Adoption of lightweight PET bottles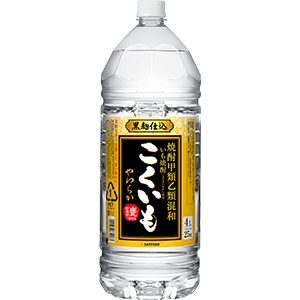 4L PET bottles with handles used for shochu products will be sequentially replaced with lightweight containers from mid-March 2022 production. We expect to reduce plastic consumption by approximately 16 tons per year and CO2 emissions by approximately 61 tons per year (based on actual sales in 2021; approximately 20% reduction compared to conventional containers).
POKKA SAPPORO Food & Beverage
In order to reduce the use of plastic, we are developing label-less products, and reducing the weight of PET bottle containers and the use of labels.

"Oishii Tansansui Label-less" has been going on sale from May 2021 through some mail order sites, and "600 ml PET Gyokuro-iri-Ocha: Support for restoration of Kumamoto Castle" and "Cafe de Crié Ice Tea Fine Sugar" has been going on sale in February 2022 with a shorter shrink label than the previous products.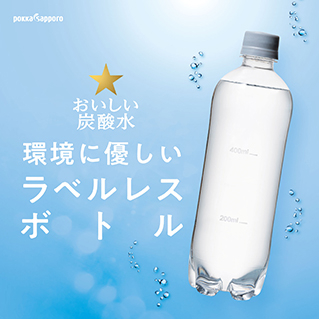 SAPPORO REAL ESTATE
De-plasticization Initiatives
In accordance with the enforcement of the Plastic Resources Recycling Law (April 2022), we have changed the materials of plastic consumables (straws, muddlers, caps, etc.) in our directly managed facilities (cafes and restaurants). Although we use less than the standard amount (5 tons), we will continue to promote further efforts in consideration of the spirit of the law and social demands.
Reduce and Recycle Plastic Resources